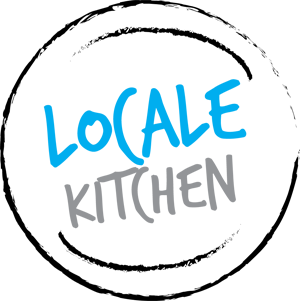 $15.00 per person
(this is an add-on option ONLY)
A canapé is a small, bite-sized dish served before a meal.Some are served cold, others hot.
Canapé may be served around after the ceremony while the couples are doing their photoshoot or before seating in the main reception area.
Mushroom arancini with chipotle aioli - veg

Black bean tostadas with avocado and grilled corn salsa veg

Slow-smoked brisket on mini cornbread

Fig and goats curd tarts - veg

Hot smoked salmon and dill creme blini

Lamb skewer of charcoal with mint labneh

Charred corn croquette - veg

Beer-battered white fish goujons with hand made tartare
Sweet potato and caramelized onion tartlets - veg

Slow-Cooked Pork Taco with salsa negra and grilled pineapple

Chargrilled Chicken Taco with tomatillo salsa and pickled red cabbage

Smoked Salmon Croquette with dill crème fraiche

Salt and Three Pepper Squid with wasabi-lime mayonnaise

Fried Mac 'n Cheese pumpkin and sage mac 'n cheese, crumbled and fried - veg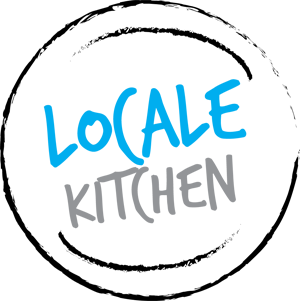 Food are laid in the middle of long banquet tables, allowing maximum interaction among guests. Just like a big
family dinner, dishes are shared and passed around while having a relaxed conversation.
This service allows a large number of guests to be served in a short period of time.
The Country Farmhouse Menu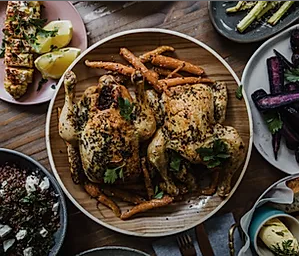 $52.00 per person
Slow cooked lamb shoulder with minted pea puree

Lemon and thyme roasted chicken with chicken gravy

Beer-battered local fish fillet with garlic and chive aioli

Rosemary-roasted potatoes

Quinoa, black bean and feta salad

Tomato, bocconcini and fresh basil salad with balsamic dressing

Fresh bread rolls with cultured butter
The Southern-style Menu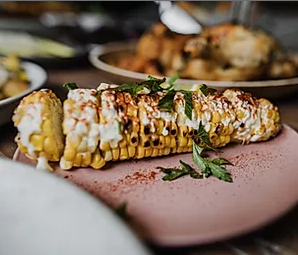 $52.00 per person
Low and slow smoked beef brisket

Lamb meat balls in harissa tomato with mint yogurt

Spiced potatoes topped with crème fraiche

Grilled Mexican sweet corn

Sweet potato, almond, feta and baby spinach salad

Corn bread and white bread

House made pickles, BBQ sauce and hot sauce
The International
Menu
$57.00 per person
Braised beef shin in red wine gravy

Papadelle with wild mushrooms, rocket, thyme and provolone cheese.

Charcoal-grilled Peri-peri chicken

Crispy-fried cuttlefish with lemon and caper salsa verde

Grilled asparagus with pecorino

Toasted freekeh, wild rockets and goat's curd salad

Roasted cauliflower, crispy spiced chickpeas and minted labneh salad

Crusty bread and cultured butter
Stand-up Menu
Our stand-up menu is a cocktail party style of food service, where small handheld items that you choose from the below menu are walked around your event by our waitstaff, your guests can relax and enjoy the party while snagging themselves passing dishes that take their fancy.
This style of menu makes for a fun and casual atmosphere at your event where your guests can move around freely and enjoy the company of friends old and new while food comes to them, being a stand-up style service guests are not locked to one seat for dinner service keeping that relaxed vibe going all event long 
$40.00 per person
Choose five items from the list below.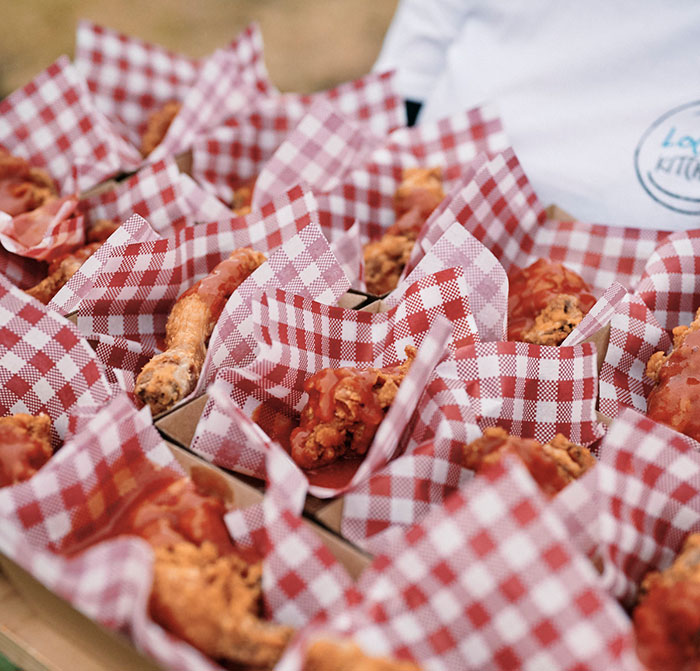 Po Boys And Buns
Grilled Fish Po Boywith green onion mayo and wild rocket

Pulled Pork Po Boy fresh mini roll, apple slaw and chipotle BBQ sauce

Southern Fried Chicken Po Boy with fresh slaw, Frank's red hot

Smoked Brisket Sliderwith spicy BBQ sauce, slaw and brioch

Mini Cheese Burger with brioche, pickle and chipotle ketchup

Pork belly baohand made steamed bao buns with roasted pork belly, fresh cucumber and chilli jam

Pulled Pork Slider brioche bun, beetroot relish, and roquette
Mexicano
Pulled Beef Quesadillawith fresh tomato salsa and coriander

Fried Fish Tacowith light slaw, Baja sauce and Pico de Gallo

Nachos Chili Con Carne corn chips with melted cheese, salsa roja and sour cream

Tostada slow cooked blackbeans, feta, grilled corn salsa and pickled red onions

Pork Taco slow cooked pulled-pork, smoked pineapple and salsa negra

Chargrilled Chicken Taco with salsa verde and pickled red cabbage

Black Bean Nachoscorn chips, slow cooked black beans, fresh tomato salsa, and nacho cheese sauce
Fried – bites
Salt and Three Pepper Squid with wasabi-lime mayonnaise

Mushroom Arancini with chipotle aioli

Beer-battered Fish n' Chipswith lemon and chive mayonnaise

Fried Mac 'n Cheese pumpkin and sage mac 'n cheese, crumbled and fried

Fried mozzarella stickswith rich tomato sugo

Fried halloumi with spiced honey

Pulled pork-stuffed chillies with cream cheese

Jalapeño Poppers stuffed with mozarella
Bowls
Cali Bowl quinoa, avocado, friend chickpeas, chili pumpkin and lemon kale.

Brown Rice Bowlwith black beans, sweet potato, fresh salsa and pickled vegetables

Grilled Street Corn Salad with crème fraiche, feta cheese, spices and lime

Fried noodle boxfried rice noodles, ginger and pulled chicken

Roast Cauliflower Salad Bowl fried chickpeas, mint labneh and quinoa
Chips n' Tings
Dirty Fries - with smoked brisket ends, chipotle BBQ, feta and Mexican cheese
FAQs
Are the servings substantial enough for the guests?
These menu items are all small hand held items designed so that guests can sample several items over the evening, we find the average guest will eat 4 items of their choice over the night and be full 

How long is the food service for stand up?
Food service is generally over 2 hours, but we find most guests are full after 90 minutes. We find the best format for food service is one full hour of food service, then some speeches, then food service continues for another 30 minutes.

We continue food service until guests turn away everything offered as they are full, at that point we will stop serving and begin packing and cleaning up. 
Do you have menu for guests with dietary requirements?
When choosing the menu you do not need to consider dietary requirements, you will give us a list of dietary requirements when the menu is finalised and on the day of the event we will tailor the menu for those people alone while the rest of the guests will receive the normal menu you selected. We ask you to advise your dietary guests to make themselves known to the waitstaff on the day of the event.
How can we lock in our date?
When you book us for your event you will tell us the style of menu you want and the number of guests, we will invoice for this and a 30% deposit is required to secure the date, with the final menu and final numbers to be given 14 days before the event, at which point we will adjust the invoice and final payment will be due. 
So you are not under pressure to decide your menu now, you only need to choose the style and then take your time to plan your choices.
When are you going to set up?
For all events, we will need to arrive and set up for your event at least 90 minutes before food service starts. In the case of weddings where the ceremony is held in the same location as the reception and our movement will disturb the ceremony we will arrive and set up before the ceremony commences.