Who else is sick of uptight formal weddings with prearranged tables, slow meal service, and the same dishes served over and over again? At Locale Kitchen, we certainly don't want you to have the same traditional cookie-cutter wedding everybody else is having! That is why we are bringing you a different kind of catering – a stand-up reception.


What's in it for us?
You are probably thinking, "What's in it for us if we choose a stand-up reception?" Stand-up receptions are increasingly gaining popularity in Perth because it doesn't only save you a whole lot of money on chairs and tables, it's just so much more fun and casual! Your guests can talk and mingle throughout the night while enjoying a wide range of great-tasting finger foods. 
Instead of being stuck to their designated tables, your guests can move around and share the memories of good times in a stand-up reception. A Stand-Up Menu is a great addition to your wedding's casual but the refined atmosphere and your guests can pick up some bite-sized goodies from our wait staff, without having to put lively banter on pause. 
Worried about food trucks not being fancy enough for your wedding? We know that your wedding is a special day, and you deserve more than just a plain hotdog on a stick. We've incorporated food truck favorites and high cuisine to create the best catering for your wedding. Beer-battered fish n' chips with lemon and chive mayonnaise, anyone? And who can say no to a slow-cooked pork taco with salsa Negra and grilled pineapple? And no, they won't be spilling on your tuxes or evening gowns because they're bite-sized goodies! 
At Locale Kitchen, we want you to have a casual and fun time at your wedding without sacrificing great cuisine. That's why we have a multitude of great food options that you can customize any way you want through our Stand Up Menu Options!
Check out some of our hot selling menu items and see what Locale Kitchen has to offer you.
Stand-Up Reception Menu
Munchy sandwiches, anyone? We have a great selection of Po Boys and Buns for your wedding. Check out this fried shrimp Po Boy with chipotle aioli and green leaves! 
And what about this savory chili and coconut-crusted king prawns with mango salsa? You've got to be crazy not to want this at your wedding, stand-up, or seated down!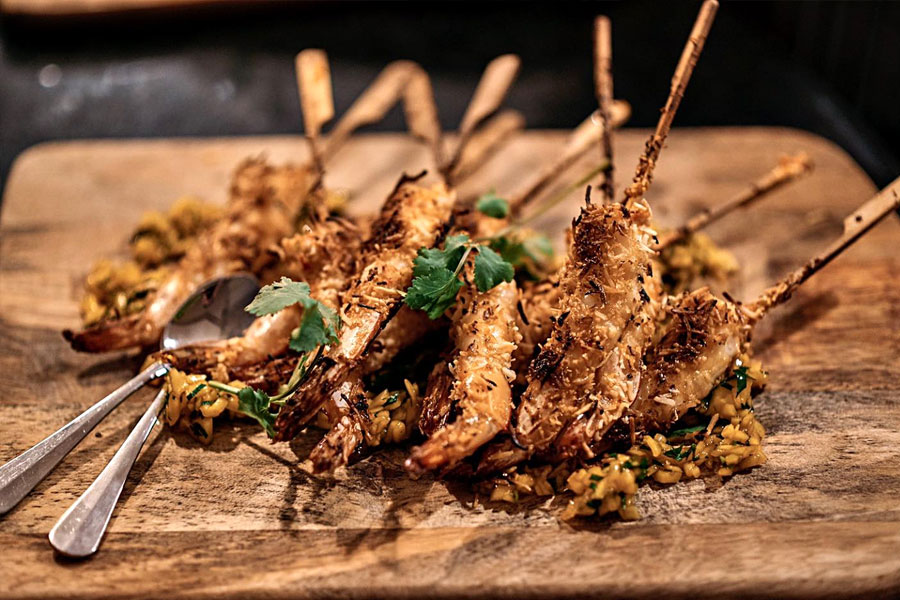 Did we mention we have rich desserts too? Check out our tray of tiramisu and salted caramel tarts.
And if you wanna get a little quirkier with your food menu, you can always ask us to create a special customized menu just for you.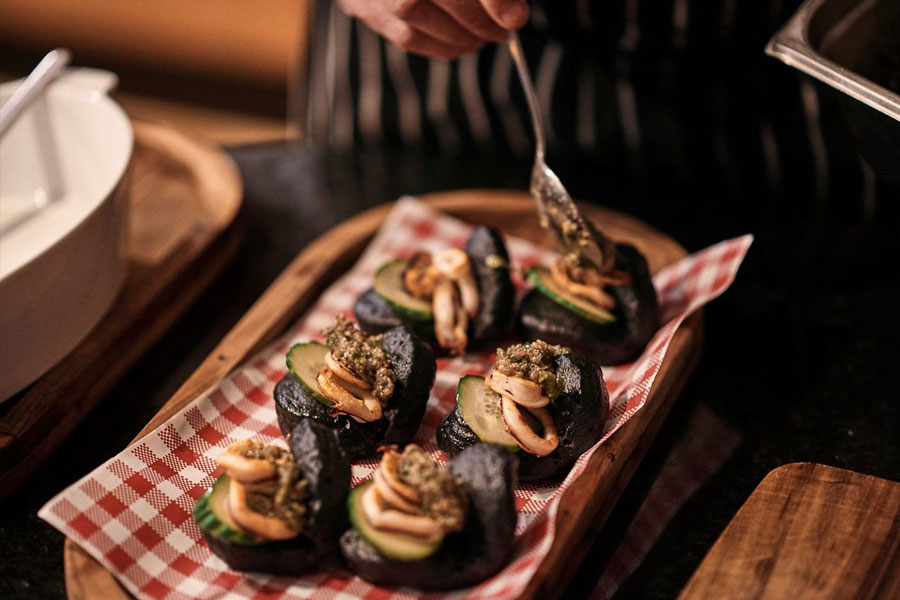 Enough with those traditional, uptight, formal weddings! Weddings should be relaxed and fun! A night of making memories not only with your spouse but with your closest loved ones or reconnecting with your old friends. Great food should be part of the wedding experience. Not a reason for your guests to isolate themselves at their designated tables!
Send us an inquiry now at the Locale Kitchen, and let us help you create unique, great-tasting memories.